Unfortunately, finding a reputable pomsky breeder can be very difficult. There are a lot of shady pomsky breeders out there and pomsky scams are very common. That's why we've put together this guide, to help provide a couple tips to finding a reputable breeder.
1) Only work with breeders approved by a pomsky breed club
At Pomsky Owners Association we only recommend pomsky breeders that are a member of the Pomsky Club of America (PCA) or International Pomsky Association (IPA). These two breed clubs do a great job weeding out the unethical pomsky breeders as these clubs require that member breeders abide by a strict code of ethics. This code of ethics ensures breeders are breeding for the purpose of bettering the pomsky breed, not profit.
It's a difficult task to obtain membership from the IPA or PCA but breeders agree it's the only way to verify the reputation of each breeder. Kanzaidy from SZ Pomskies says "A good breeder should also be a member of one of the Pomsky breed associations such as the IPA or the PCA."
Breeders of the IPA and PCA work as a team within their respective clubs. Each member respects and helps one another; rather than competing for sales, the members work together to promote pomsky education and better the long term health of the breed. As Heather of Pomsky Northerns put it "Steer clear of breeders who are publicly (or in your private conversations) quick to bash other breeders.  Chances are, if you have any issues with your puppy, the breeder will treat you the same way you heard them treating others. What I've seen has come mostly from breeders not part of IPA or PCA"
Sharlee of Chinook Pomskies is a board member of the International Pomsky Association. Sharlee spoke in regards to the IPA saying that "The IPA checks on all the breeders to ensure they are upholding the code of ethics and doing right by their dogs. We have a great Breed Standard that we are all working toward." Sharlee further clarified that to become an IPA member "We screen the breeders to make sure they are upholding the Code of Ethics. We continue to keep an eye on our breeders and we love feedback from new owners of our breeders. We also listen to the complaints we get and take action where necessary." The IPA and PCA are extremely valuable resources that promote the best breeders. I strongly recommend you only work with a breeder that is a member of one of these premier breed clubs.
Each Pomsky Owners Association certified breeder is a member of either the IPA or PCA. You can download our list of 40+ approved pomsky breeders of the IPA and PCA here
Find A Pomsky – Click Here For Litter Updates
2) Look for reviews and testimonials
Every breeder should have testimonials from previous customers listed on their website or Facebook page. You can spot a good breeder right away by skimming through a couple testimonials. Look at both the good reviews and the bad reviews; see what past customers are saying. For example, checkout this review from our member breeder Pomsky Northerns: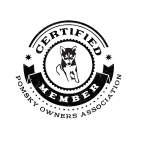 "Going to reputable breeders really does make a difference"
Our girl Jules is doing so awesome. She's sleeping through the night, she's not having accidents in the crate and she is doing really well with her beginning obedience. What a great bloodline. She is very confident, eager to work for food, great with other dogs and best of all super cute. All the things we would want in a demo dog. When looking for puppies, going to reputable breeders really does make a difference. Thanks for the great DeMille breeding program.
2016-10-24T23:04:00-05:00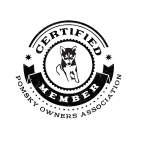 https://pomskyownersassociation.com/testimonials/sean-pomsky-northerns-testimonial/
Notice how the review is honest and insightful, describing how their pomsky is well mannered and easy to train. This is the type of review you should look for when searching for a pomsky breeder, try to find honest and insightful reviews.
Be extra diligent when reviewing testimonials and be aware of fake testimonials. A scamming breeder might write reviews for themselves; this is typically easy to spot. Indications of a fake testimonial include:
Overly scripted – looks like a sales message
Non-descript – doesn't describe their relationship with the breeder
Sales pitch – includes catchphrases from the breeder's sales message
Real testimonials show passion and insight about working with the breeder, avoid the bashing and fake testimonials. If you have any questions about the reliability of a pomsky breeder's testimonial, please contact us, we've reviewed thousands and have gotten pretty good at spotting the fakes!
To view testimonials, checkout our list of approved pomsky breeders.
3) Look at photos and videos
Photos are an important indication of a reputable breeder. You can tell a lot about a breeder from the pomsky videos and photos on their website but the big difference between an average breeder and a reputable breed comes when you request personal and unique photos.
A reputable breeder is more than willing to take a couple quick photos and videos of the pomsky puppies, dam and sire. Make sure these are NOT videos and photos that have already been posted on the web as Cheyenne of Lollipop Pomskies warns users to beware when looking at photos stating "Scammers are getting really smart and tricky these days. Often scammers steal pictures from breeders. A buyer can do a picture Google search to see if the image is elsewhere. Scammers are making websites that have the basic info but they do not have a nice page or pages about their dams, sires, or puppies." Make sure the breeder is sending you unique photos; any good breeder will do this for you. It's a simple and quick check to ensure you're dealing with a reputable breeder.
When looking through the photos and videos from the pomsky breeder, ask yourself the following questions:
How do the puppies look – are they well fed? Are they active and playful?
How does the dam and sire look – any noticeable health concerns? What is their size? What is their temperament and demeanor?
How do the surroundings look – does it look like a well-kept area for the puppies?
The more photos you request the better. Continue to request photos and videos weekly after you pay the deposit on your pomsky. Kanzaidy of SZ Pomskies talks about reputable breeders saying "[Breeders] usually have photos and videos of their puppies from birth to 8 weeks along with parent photos. They will gladly send you different and updated photos and videos upon your request to see more of the puppy available."
If you're looking to learn more about the pomsky you can view some of our approved pomsky photos and videos here.
4) Call and ask lots of questions
A reputable breeder will be more than happy to answer any and all pomsky related questions. Buying a pomsky is a huge decision, it's never a spur of the moment choice and a good pomsky breeder understands that. That's why a reputable pomsky breeder takes the time to help you throughout the process, walking you through each step describing everything from the mechanics of pomsky breeding to potty training.
At Pomsky Owners Association we STRONGLY recommend you call or setup a video conference with your breeder to ask questions. Email is a good means to make initial contact but adding a pomsky to your family is an important decision, you need to build trust on a personal level with your breeder and that starts by picking up the phone.
Lauren of Pristine Pomskies put it perfectly stating: "A reputable breeder is one who will conduct phone interviews and encourage that all residents of the household visit the puppy before purchase. The breeder will provide any documentation when asked (AKC registration, vet certifications etc.) and will encourage the adopters to ask questions and stay in touch for the life of the pomsky. "
 Question to ask your breeder
When asked about the best questions to ask a breeder Chree of Mountain Shadow Pomskies provided an awesome list of the following questions that everyone should ask before buying a pomsky:
Does the breeder DNA test the pomsky to prove it's really a pomsky?
What kind of guarantee does the breeder offer?
Does the breeder have a sales contract?
Does the breeder give the pomsky puppies their first set of shots?
Does the breeder breed pomskies in their house?
Does the breeder keep records of each pomsky?
Sharlee of Chinook Pomskies chipped in with more notes about good questions to ask a breeder:
Ask about feeding
Ask about the pomsky puppy training
Ask if the pomsky puppies are socialization
Chassie of Once Upon A Pomsky recommended that if you're looking to buy a pomsky you should first:
Ask for pedigree information
Ask for pictures
Ask what food the breeder uses
Ask what the next steps are
Ask if the puppies will come de-wormed and with their first shots
Ask if they can pick up the puppy at the breeders home
Ask if they can place the deposit in person
Ask what vet they use
Ask if their pomsky puppies have had any health problems in the past.
Kim of Frozen River Pomskies also provided some insight into good questions to ask the breeder, stating you should ask:
What is the size of the dam and sire? What size do you expect the pomsky litter?
What is the age of the dam and sire?
How does the breeding take place, what is the process?
Is there a health guarantee?
What "checks" did the vet do on the pomsky puppies?
Are the puppies raised at home and socialized?
For more information about why you should ask questions, checkout this guide on how to avoid pomsky scams where we breakdown exactly why it's so important to ask all of these questions.
5) Visit the breeder
It's tough, we know, but we strongly recommend you make every effort possible to visit the breeder in person. You can tell a lot by meeting the breeder in person. When you visit the breeder you can personally inspect the following:
Quality of the breeder
Health of the litter
Health of the dam and sire
Temperament and demeanor of the dam, sire and puppies
A good breeder will welcome you to their home and often even encourage you to visit before buying. Cheyenne of Lollipop Pomskies says "My number one suggestion is to visit the kennel or home if possible. If the breeder is unwilling to let the buyer see the parents or their premises they are probably a scammer or have the dogs is bad conditions."
Lauren from Pristine Pomskies recommends everyone buy a pomsky that's close to home, saying "Try to stay local so you can visit the puppy and its parents before the purchase. Make sure you feel comfortable with your breeder and that you connect on a personal level. This connection will come in handy in the future if you have any questions or concerns about your new pomsky."
It's important to meet the both the breeder and the puppies, Brianna of Lakeshore Pomskies welcomes potential buyers onto her premises saying "Being able to meet us as breeders and meet the dogs lets the potential owner see how we raise and treat our dogs." When asked what to look for when visiting a breeder Brianna stated "look for how clean the area is and how clean the dogs are. Also ask to meet the adult dogs to see what condition they are in, do they look healthy and treated well? I would not buy a puppy from someone that does not let you see the adult dogs."
It's often tough to find a breeder near home, if you need help, download our list of 40+ approved pomsky breeders sorted by geographic location.
6) What's included with your pomsky purchase
As we mentioned in tip #4, you should always ask your breeder what's included with your purchase of the pomsky. You can tell a lot about the breeder by what's included with the sale.
Every reputable breeder will include the following with the sale of a pomsky:
Vet check
Up to date de-wormings
First set of shots and vaccinations
Health guarantee
Sales contract
IPA or PCA registration paperwork
Lifetime support
Socialization with children and other animals
Some breeders that go above and beyond will also include the following with the sale of a pomsky:
Bag of puppy supplies
Dog collar
Dog food
Dog treats
Early training
Leash
Micro-chipped
Puppy blanket
Toys
Travel crate
Be sure to ask each pomsky breeder what's included with the sale. A reputable breeder will include everything listed above.
Our member breeders are the best of the best, you can check out what our pomsky breeder's include with each pomsky sale by going to their membership page.
7) Utilize Google Maps
The last tip to finding a reputable pomsky breeder is to utilize Google Maps. At Pomsky Owners Association we recommend you visit the breeder in person before buying but sometimes that's not possible.
If you can't visit the breeder in person, then utilize Google Maps street view and search for the breeder's address. Using Google Maps street view allows you to inspect the images of the breeder's property, using this technique you can view obvious hazards on the property, quality of the breeding area and the properties size. When purchasing from a breeder you want to ensure they have a safe environment with enough space to raise and exercise your pup.
Conclusion – 7 tips to finding a reputable pomsky breeder
In summary, here are the 7 tips to finding a reputable pomsky breeder:
Work with an IPA or PCA approved breeder
Review the breeder's testimonials
Ask for unique pomsky photos and videos
Call and ask the breeder questions – use our list of questions to ask your pomsky breeder
Visit the breeder in person
Review what's included with the sale of your pomsky
If you can't visit the breeder, use Google Maps
Finding a reputable pomsky breeder is difficult; use these 7 tips to find your breeder and download our list of 40+ reputable pomsky breeders to help you find the right breeder.
Find A Pomsky – Click Here For Litter Updates
Special Thanks
Special thanks to all of the following that provided input and helped us create this guide finding a reputable pomsky breeder:
More Pomsky Resources
Need more help finding a Pomsky? Check out our other Pomsky articles and videos including:
Want updates every time a one of our top breeders has Pomskies available? Click here to join our litter alert email list (also download a list of all reputable breeders.