Are You A Pomsky Breeder?
Do you want to be known as one of the most reputable Pomsky breeders in your state and in the country?

Are you trying to reach more Pomsky shoppers but struggling to fill up that waiting list?

Want to get your litter in front of thousands of dog lovers looking for the perfect Pomsky?

Do you want to link with other Pomsky breeders and owners around the world to help promote and acknowledge the Pomsky breed?
Answer "Yes" to any of these questions? The Pomsky Owners Association Is For You.
Become an official registered breeder of the Pomsky Owners Association today.
Get your litters published in front of thousands of Pomsky shoppers. Be listed and recommended as one of the most reputable Pomsky breeders in the industry. And join a network of hundreds of Pomsky Breeders and Owners as an official member of the Pomsky Owners Association.
Choose Your Membership Plan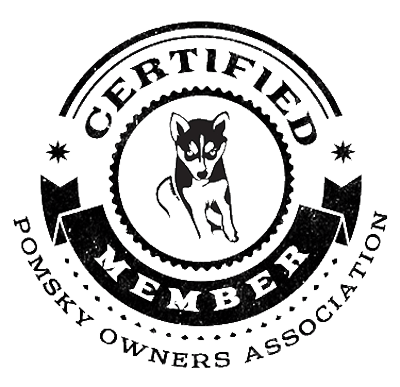 Who Can Become A Member?
This application is for Pomsky breeders looking to become a registered member of the Pomsky Owners Association.
What Do I Get As A Member?
Our association now consists of 80+ reputable Pomsky breeders. We're working every day to position ourselves in a way to better serve the best Pomsky breeders (those that are members of the APKC or IPA) and the Pomsky consumer. We look to our members for new ideas and projects that we can take on to help the community, as the breeders know best about what's needed to make a difference.
Steps To Becoming A Member
Hopefully this sounds like an association you would like to be part of! These are the steps to become an approved breeder of the Pomsky Owners Association. Please enroll below to begin your application process.
Step 1: You must be a member of an approved breed club (APKC or IPA) or Good Dog (gooddog.com
Step 2: Choose and enroll in your membership below. Click here.
Step 3: Complete the final application form that you will be redirected to after enrolling. In this form you will:

Confirm membership to the APKC, IPA, or Good Dog
Provide information that our team will use to set up your membership page and introduce you to our subscribers
Accept the membership terms and conditions
Agree to abide by our code of ethics

Step 4: You must display the membership badge on your website, which we will provide
Step 5: You must pass our web audit (we'll review your website and social pages for red flags)
Important Prerequisite for POA Breeder Membership
Are you a member of either the APKC, IPA or Good Dog? Unfortunately, we only accept breeders that are members of an approved Pomsky breed club or Good Dog. The two premier Pomsky breed clubs are:
American Pomsky Kennel Club (APKC)
International Pomsky Association (IPA)
The reason for this is because Pomsky Owners Association focuses primarily on the relationship between the consumer and the breeder, we don't have the necessary resources to validate the reputability of each breeder which is why we leave that to the Pomsky breeder clubs (APKC and IPA) and Good Dog. There are a lot of unethical Pomsky breeders. The APKC, IPA, and Good Dog do a great job weeding out these bad breeders which is why we only promote these breeders to our subscribers.
If you are not yet a member of the APKC, IPA or Good Dog, we highly recommend you reach out and inquire about approval. These two clubs do a great job of promoting the best Pomsky breeders; as long as you're implementing ethical breeding practices and promoting the long-term health of the breed you will have no problem getting approved.
Apply Today
Ready to apply? Please start by choosing your membership plan below. Once you choose a membership plan and checkout, you will be redirected to an application form where we will collect your information to review your breeder credentials, conduct our web audit, and create your membership page.
We attempt to reply to all applications within 48 hours.
Look forward to hearing from you!