Raise and Train the Perfect Pomsky!
A Group Built By Pomsky Owners For Pomksy Owners.
VIEW PRICING
Are You A Pomsky Owner Looking for the Following?
Other experienced Pomsky owners to share your stories, issues, and ask questions

Wanting to promote and acknowleding the Pomsky breed

Training resources for Pomsky chewing, high energy, potty training, shedding, and more (We all need this)

Fun Pomsky swag to spoil your Pomsky and promote the breed

Discounts to helpful Pomsky products and services
The Pomsky Owners Association Is For You.
Register your Pomsky with the Pomsky Owners Association (POA) and become an official Pomsky owner. Join a network of hundreds of Pomsky owners as an official member of the Pomsky Owners Association.
With this program you get credit to the POA Pomsky swag shop each quarter, access to the Pomsky owner portal with tons of great training and other resources (updated as needed), access to hundreds of Pomsky owners and breeders to talk about the Pomsky breed, access to product and service discounts with our partners, and more.
JOIN THE POA TODAY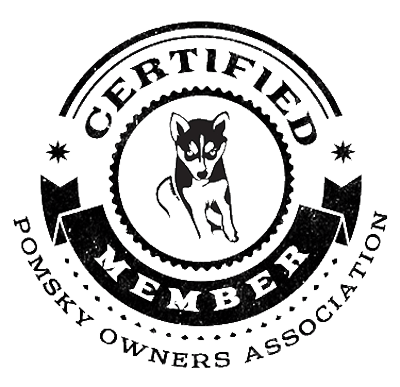 Who Can Become A Member?
This program is for Pomsky owners only! After enrolling, proof of your Pomsky will be required.
What Do I Get As A Member?
How To Join
To join, simply choose your membership plan below (annual or monthly).
Once you pay and enroll, you will begin receiving your quarterly gift card discount code to the Pomsky Swag Shop, and you will be granted automatic access to the Pomsky owner's portal where you can begin networking with other Pomsky breeders and access all of the training materials. The subscription helps us to maintain updates to the portal, send the quarterly gift card, and continue working on partnerships and other benefits.
Once you enroll, a member of the POA will reach out to you to collect some information about your membership. This is just simple information to confirm that you are a Pomsky owner. This will allow us to create your official POA registration certificate.
Register Today
Choose your plan below and register as a POA Pomsky owner. Enroll today to join a network of hundreds of Pomsky owners as an official member of the Pomsky Owners Association and receive immediate access to the Pomsky Owners Membership Portal.