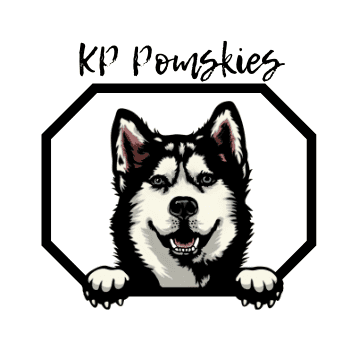 Small breeder that raises puppies in her home, utilizing many of the Puppy Culture Methods and Early Neurological Stimulation in order to produce the most well rounded puppies possible. We are one of the few Pomsky breeders in the nation that does full health testing. To my knowledge, there's only 1-2 others in the US that does the OFA hips/elbows/patellas/eyes, plus the Embark DNA.
ABOUT
Available Pomskies
Please visit the KP Pomskies ​Facebook to view available litters. Or contact KP Pomskies directly at kppomskies@gmail.com.
Or you can view all available Pomskies from all POA Members on our Pomsky Litters Page.
Pricing
$2500 – $4500
Shipping
$450 via personal puppy nanny to almost any airport.
What Is Included
Each KP Pomskies Puppy comes with:
A puppy pack with enough kibble to transition puppy to high quality kibble of choice, several toys, chews and blanket with mother/siblings' scent.
Puppy will have 2 sets of shots by vet
Puppy will have microchip inserted by request
Puppy will have clean fecal performed shortly before leaving home.
24/7 lifetime support
Puppy owner will be added to the group so they can keep track of litter mates and previous litters.
OFA Hips, Elbows, Patellas, and Eyes tested.
Early neurological stimulation (ENS) protocol performed from 2 days onward.
Noises acclimated.
Vet approved as highly socialized puppies.
Vet Reference
Dr. Pepin with Cross Creek House Call
Phone – (812) 941-1716 8370
Address – Atkins Rd, Floyds Knobs, IN 47119
Contact
Contact Name: Kim Baumann
Location: Georgetown,Indiana
Phone: 812-989-6626
Email: kppomskies@gmail.com
Facebook: www.facebook.com/kppomskies
Instagram: www.instagram.com/kppomskies
Membership Page: https://pomskyownersassociation.com/kp-pomskies/
Christie Johnston

Pomsky Owner

"I have a lot of experience with breeders. My family has a small herd of dogs that all have come from different breeders. Kim and KP Pomskies are incredible. Kim couldn't be any nicer. She is truly passionate about what she does and the adorable fluff nuggets she raises. Aspen (aka Heath) is gorgeous and he gets a lot of compliments about how handsome he is and how unique he looks.My experience getting to know Kim couldn't be anymore positive. But I was also extremely impressed about the food she feeds the puppies. I have picked up a lot of dogs from breeders that give me a bag of puppy chow (which I transition them off of immediately). Kim feeds the puppies with Victor Hi-Pro Premium. I have done my research and I am switching my other pomsky to it now too!If you are looking to get a pomsky, stop searching for the right breeder! You are looking at her page now! She is the best breeder I have met!"
Jess Aiken

Pomsky Owner

"Kim was great to work with! She cares very much about her puppies and works very hard to find the perfect for them! She was very responsive in all of my questions and made the process of receiving our puppy very easy! We love and enjoy our puppy so much!"
Miranda Versteeg

Pomsky Owner

"I would give Kim 100 stars if I could! She has so much love and passion for her babies, and takes so much time to make sure anyone who purchases from her gets a well rounded and socialized Pomsky. She's so kind hearted and honest in her dealings, and the support she offers new families is priceless. I hands down recommend completing your family with one of her gorgeous Pomskies!"
READY TO FIND YOUR POMSKY?
SEE ALL AVAILABLE POMSKIES CURRENTLY AVAILABLE FROM THE TOP POA BREEDERS
See Available Pomskies