Description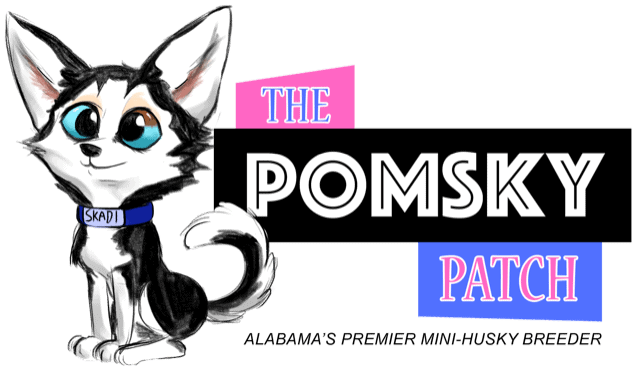 The Pomsky Patch
Here at The Pomsky Patch, we enthusiastically promote and educate dog lovers about this intriguing, emerging new breed. Already being recognized as loving family dogs, Pomskies (a.k.a., Miniature Huskies and Arctic Spitz) are gaining popularity for their intelligent, friendly, and playful temperament.
As a hobby breeder, our goal is not only to produce a beautiful puppy but to also ensure that our dogs have some of the best dispositions the breed has to offer. We do this by staying in close contact with the families who adopt one of our pups, soliciting feed-back at every stage of their development.
We also make ourselves available in a support role (especially in the early stages of puppy rearing) to share our knowledge with new owners when called upon, encouraging them to be the best Pomsky parents possible. We often refer our customers to training resources and information sources that will keep them ahead of the knowledge curve as their pups grow and mature.
Our operation consists of a climate controlled, finished basement level of our home which provides ample safe space for us and our puppies to romp prior to their adoption. Our website and Facebook page includes video footage and lots of photos of both our indoor and outdoor puppy rearing amenities. We invite you to take a look.
Location
Lake View, Alabama
Contact
Point of contact: Freida & Brent Bauer
Phone: 615-973-0008
Email: answers@thepomskypatch.com
Facebook: https://www.facebook.com/thepomskypatch
Instagram: https://www.instagram.com/the.pomsky.patch/
Website: https://www.thepomskypatch.com/
YouTube: https://www.youtube.com/channel/UC1VyDy1s_QmbWtBmKUJjJ4g/
Membership Page: https://pomskyownersassociation.com/the-pomsky-patch/
LITTER PHOTOS
Please click each image below to view more photos. Each image will link to more photos from the breeders Facebook page or Website.
2 available pomskies

View More Photos On Website