Description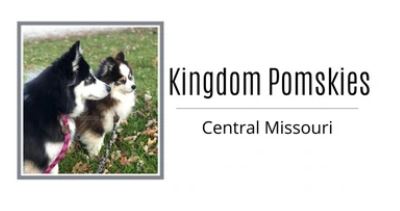 Kingdom Pomskies
Thank you for your interest in Kingdom Pomskies! Growing up I was raised on our family farm in Central Missouri, caring for and showing cattle and sheep from a young age. My Pomskies are now raised on this same farm with acres of land to roam and explore. My dogs are my life and being a small breeder, I am able to give each and every one the love and attention they deserve. All of my dogs and puppies are Embark Genetic and Health tested, are kept on a strict vaccination and deworming schedule, are very well socialized with noises and people and are just about the sweetest dogs you'll find! Kingdom Pomskies is dedicated to raising happy, healthy, beautiful pups that will easily become a beloved member of your family. Thank you for considering Kingdom Pomskies for your new Pomsky puppy!
Location
Columbia, Missouri
Contact
Point of contact: Amy Ferguson
Phone: (573) 424-6336 (call or text)
Email: kingdompomskies@gmail.com
Website: https://www.kingdompomskies.com/
Facebook: https://www.facebook.com/KingdomPomskies/
Instagram: https://www.instagram.com/kingdompomskies/
Membership Page: https://pomskyownersassociation.com/kingdom-pomskies/
LITTER PHOTOS
Please click each image below to view more photos. Each image will link to more photos from the breeders Facebook page or Website.
*Find photos here when this breeder has available Pomskies*
View More Photos On Website