Description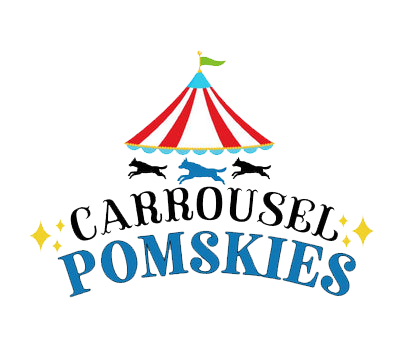 Carrousel Pomskies
Meet the owners Suzanne and Rami:
Hi, my name is Suzanne Yordy. I am a mother of three, step mother to one and Nanna to one. I am from Ontario Canada and relocated to Pahrump Nevada in 2001. I used to breed Rottweilers and ended that career in 2010 to focus on my daycare. I bought my first Pomsky in February 2020 and fell in love. I started researching the breed and studied all aspects of breeding Pomskies. I have purchased all my Pomskies from two reputable breeders thus far in the Pomsky community. They have mentored me through this journey. I am excited to be involved in breeding top quality puppies.
How did you become a breeder?
My venture with Pomskies is for the love of the breed and the interest of producing Pomskies with top quality genetics. Pomskies have proven to be wonderful companions in my life, and it is a privilege to share that love and friendship with others.
Rami Sahar
After losing my dog several years ago to a congenital liver shunt, I thought my flame to dog ownership had been put out for good. We tried everything from stem cell treatment to homeopathic medicine to possibly cure my little girl who was only 6 years of age. We even looked into the possibility of a liver transplant but this type of procedure has not been practiced on canines yet. Anyone reading this who is a dog lover knows that your dog is your family member and you would do just about anything for them. A few years later I realized I was ready for another puppy in my life.
This time I would do all the research I possibly could to minimize the possibility of any congenital disease in the puppy I choose. I searched the entire country and reached out to almost every pomsky breeder in the nation. I found that many didn't answer their phones and preferred communication by messenger or text while others never returned phone calls. The ones I did talk to were very short with me over the phone, didn't like to answer too many questions, didn't truly care as to what traits I was looking for in my pomsky and were over all not very personable.
When I met Suzanne, I immediately heard that I was talking to someone heartfelt, patient and listened to me like a human being - not like a potential money deal. Suzanne spent over an hour on the phone with me answering a million questions. She sent me embark DNA test results for the parents of the available puppies, photos, videos and even video conferenced me to show me her puppies which in turn made lower all my defenses and fears that otherwise would have questioned her legitimacy.
I ended up adopting not one but two Pomskies from Suzanne! We became friends, kept in touch, shared photos of the puppies as they started growing up and eventually and by chance I became a partner in Carrousel Pomskies. My love and passion for this breed has turned into a fun opportunity to share this amazing breeder with other families across the country who are looking for an incredibly loved pomsky bred from the best pedigree!
What makes your breeding program special?
At Carrousel Pomskies, we breed excellent companions. We understand the importance of dog health, temperament, and structure - every breeding decision is made accordingly. We DNA test our Sire and Dames to ensure we are only breeding puppies that have been cleared of over 200+ genetic disorders. We are also constantly improving our breeding program and work closely within the breeding community to do so.
We are located in Pahrump Nevada (just outside of Las Vegas)
Established in 2020 as Nevada's first premier Pomsky breeder and recognized by the American Pomsky Kennel Club. We personally deliver our puppies via flight or a fun road trip in our RV to anywhere in the United States and Canada! If you are looking for an excuse for a mini vacation then you now found one - take a trip to Vegas, or even visit Spring Mountain Racetrack (both just minutes from us) and drop on by to hand pick your new puppy!
Location
Pahrump, NV
Contact
Point of contact: Suzanne Yordy
Phone: (707) 786-3190
Email: carrouselpomskies@gmail.com
Website: https://www.CarrouselPomskies.com
Facebook: https://www.facebook.com/CarrouselPomskies
Instagram: https://www.instagram.com/carrouselpomskies
YouTube: https://www.youtube.com/channel/UCDdRKcsr09CW0f07Na1bQeA
Other Social: https://www.tiktok.com/@carrousel.pomskies
Membership Page: https://pomskyownersassociation.com/carrousel-pomskies/
LITTER PHOTOS
Please click each image below to view more photos. Each image will link to more photos from the breeders Facebook page or Website.
4 available in this litter

View More Photos On Website