State: FL
Pomsky Availability: Pomskies Available
New Litter: Yes - New listing this week
Price Range: $2,000 - $3,000, $3,000 - $4,000
Number Puppies Available: 10
Pomsky Type: Yes - Litters with 25/75
Pomsky Gender: Yes - Litters with males available
Pomsky Markings: Yes - Litters with husky markings
Next Litter: None
POA Member: Yes - POA Approved
AVAILABLE POMSKIES
Pomsky Availability: Pomskies Available
New Litter: Yes - New listing this week
Number Puppies Available: 10
State: FL
Price Range: $2,000 - $3,000, $3,000 - $4,000
Next Litter: None
ABOUT LITTER
Number Puppies Available: 10
Price Range: $2,000 - $3,000, $3,000 - $4,000
Pomsky Type: Yes - Litters with 25/75
Pomsky Gender: Yes - Litters with males available
Pomsky Markings: Yes - Litters with husky markings
ABOUT BREEDER
POA Member: Yes - POA Approved
State: FL
Next Litter: None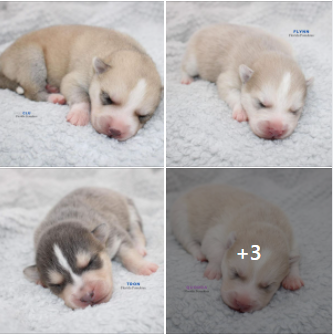 ABOUT BREEDER
Florida Pomskies
We are a young family that loves living with our pack in sunny Florida. We produce puppies that can range from 10 pounds to 35 pounds. Our puppies come in all colors and coat lengths, but our heart's melt for the beautiful merle pattern. Here at Florida Pomskies our pack lives beside us in our home and enjoys wonderful days at the beach or dinner out on the town with us. Our pack goes through extensive testing to produce the healthiest puppies possible. This testing includes DNA testing, Genetic disease testing, and AKC recommended health testing.  Along with our screened parents our puppies are raised through a program called Puppy Culture to help produce your confident new family member. We would love to help you find your next best friend.
Location
Jacksonville, FL
Contact
Point of contact: Hannah Stewart
Phone: 904-382-2731
Email: Hannah@FirstCoastK9s.com
Website: https://www.firstcoastk9s.com/
Facebook: https://www.Facebook.com/FloridaPomskies
Instagram: https://www.instagram.com/FloridaPomskies
Membership Page: https://pomskyownersassociation.com/florida-pomskies/
LITTER PHOTOS
Please click each image below to view more photos. Each image will link to more photos from the breeders Facebook page or Website.
6 available in this litter

4 available in this litter
Link of available puppies in our website
//www.firstcoastk9s.com/avaliable-puppies
CONTACT BREEDER