State: AR
Pomsky Availability: Pomskies Available
New Litter: Yes - New listing this week, No - Listings are older than this week (still with available Pomskies)
Price Range: $1,000 - $2,000
Number Puppies Available: 14
Pomsky Type: Yes - Litters with 25/75
Pomsky Gender: Yes - Litters with males available
Pomsky Markings: Yes - Litters with husky markings
Next Litter: None
POA Member: Yes - POA Approved
AVAILABLE POMSKIES
Pomsky Availability: Pomskies Available
New Litter: Yes - New listing this week, No - Listings are older than this week (still with available Pomskies)
Number Puppies Available: 14
State: AR
Price Range: $1,000 - $2,000
Next Litter: None
ABOUT LITTER
Number Puppies Available: 14
Price Range: $1,000 - $2,000
Pomsky Type: Yes - Litters with 25/75
Pomsky Gender: Yes - Litters with males available
Pomsky Markings: Yes - Litters with husky markings
ABOUT BREEDER
POA Member: Yes - POA Approved
State: AR
Next Litter: None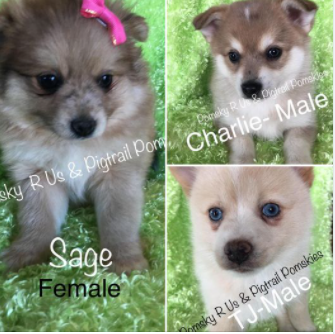 ABOUT BREEDER
Arkansas Pigtrail Pomskies
My name is Trista Lowery. My husband and I have two children and live in a small town in Northwest Arkansas called Huntsville on highway 23 (also known as the Pigtrail). We started raising our husky females in early in 2019 and just recently added our little male Pomeranian to our family. Our foundation dogs are all AKC registered. Our first litter will be DNA tested as we apply for membership into the International Pomsky Association (IPA) and the Pomsky Owner's Association (POA). I am a work from home mom that takes great pride in raising healthy, happy companions for our fur families.
Location
Huntsville, Arkansas
Contact
Point of contact: Trista Lowery
Phone: 479-789-4356
Email: ttrista93@yahoo.com
Facebook: https://www.facebook.com/ARpigtrailpomskies/
Website: www.arpigtrailpomskies.weebly.com
Membership Page: https://pomskyownersassociation.com/arkansas-pigtrail-pomskies/
LITTER PHOTOS
Please click each image below to view more photos. Each image will link to more photos from the breeders Facebook page or Website.
3 available puppies (Cindy & Jimini born 12/9/2021)

7 available puppies (Vixie & Koda born 1/27/2022)
4 available puppies (Fiona & Koda F1b puppies born 2/5/2022 – NO photos yet)
Please click the link to see all of available puppies in our website
//arpigtrailpomskies.weebly.com/
CONTACT BREEDER